Shows for adults and teenagers.
Approximate running time: 1 hr. – 1 hr.15min.
THEM, US, OUR GROUP...AND ME
For audiences ages 9/10 and up
Is fearing Them inevitable? Can this fear encourage us to look deep inside ourselves and bring out what is best in us? Can we speak about it through metaphor or philosophy? Can we speak about it at all?
Besides, who are They exactly? Am I one of Them?
We explore the answers through different ways: telling stories from oral tradition, true-to-life tales, sung tales, personal memories, but also excerpts from philosophical works, an interview with oneself, and a few dance moves, all strung together by the sound of guitar and percussion instruments.
With Gabriel Equerre, perussion, violin and guitar.
THE GOLDEN DOOR
For audiences ages 9/10 and up
In 1928, Theresa Amoon's paternal grandparents left Lebanon to settle in the United States. The tale of their Atlantic crossing entered into family history, joining the stories of others who migrated to the New World. In this production, tales from oral tradition parallel personal stories of entering through Ellis Island, New York harbor's ex-center for immigration. Put into historical context and surrounded by song, these stories paint a fresco of the American people.
With a musician playing percussion and guitar.
The show is also available without a musician.
FROM ONE LAND TO ANOTHER
Stories brought from the Middle East to the West
For audiences ages 8/9 and up
Why are certain people attracted to faraway lands to the point of leaving their homes and families behind to live elsewhere? Those who 'change their destiny' pack in their bags stories which are passed on from parents to children then readapted from one generation to the next. Theresa Amoon, who is of Lebanese origin but was born and raised overseas, tells those very stories which traveled from the old world to the new. Traditional and real-life tales intertwine and reflect one another, shedding light on all those who one day dare to cross his or her own threshold and live elsewhere…
WATER, WATER EVERYWHERE, BUT…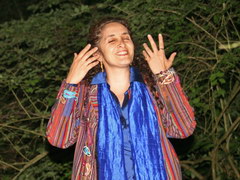 For audiences ages 8/9 and up
In our daily lives, water seems never to run out. A twist of the faucet and it is always there! But will it always be this way? Theresa Amoon gathered stories from people who cope with drought daily, who live in areas where water rights are a source of tension, and where each drop counts towards survival. But when water doesn't flow, stories certainly do! Traditional tales are reflected in personal true-to-life stories, allowing us to navigate between reality and imagination and to dive into water stories that revitalize us.
THE NIGHT OF A THOUSAND FEASTS
or Sweet and spicy stories from 1001 Arabian Nights
For audiences ages 9/10 and up
The Middle East is well known for its luxuriant atmosphere, warm hospitality and exuberant generosity—especially when a meal is being served. 1001 Arabian Nights reflects this ancient culinary tradition and Theresa Amoon calls upon her Lebanese background to do it justice. Through three tales taken from this magnificent work, she recounts the rarest dishes, the most delicate deserts, the finest wines and the most delicious delights!
With Mohamed Beldjoudi, percussion and guitar.
The show is also available without a musician.
A WALK THROUGH THE HEART(S) OF PARIS
For audiences ages 12 and up
Based on interviews with married couples about the moment they first met, these stories follow the perilous trials and tribulations of love. Come meet the couple who took twelve years to decide and the one who decided in two seconds time. Then meet the couple who changed countries constantly and the one who didn't know where to settle. Funny, serious and touching all at once, these stories show how fantasy and reality meet when fairy tales and daily life come together.
THE EPIC OF GILGAMESH
For audiences ages 12 and up
Dating back to approximately 2000 B.C., the Epic of Gilgamesh is humanity's oldest story. Engraved into stone tablets in ancient cuneiform, this vast Mesopotamian tale recounts the story of king Gilgamesh and his double, the wild man Enkidou. Their adventures evoke universal themes of profound friendship, fear of death and a quest for immortality. Theresa Amoon has delved into this epic tale full of meaning time and time again since 1996. A musician who plays traditional Middle Eastern instruments accompanies her.
With a musician playing Middle Eastern instruments.
This show is also available without a musician.
A CHRISTMAS CAROL
Based on Charles Dicken's famous story
For audiences ages 8 and up
Ebenezer Scrooge, a hardened miser, hates Christmas and shares his mood with everyone he meets. It needs the intervention of other-wordly spirits to convince him otherwise. Will the spirits work their magic before Christmas is over? A classic tale, here adapted by Theresa Amoon, that tells of the possibility of wonder at any age.